Drug WarRant reader Chris found something interesting on the editorial page of a San Franciso newspaper from August 30, 1910 (full page available here as a pdf).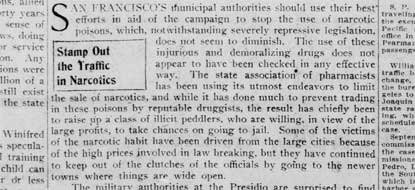 The paper was urging the municipal authorities to use their best efforts to "stop the use of narcotic poisons." Their description of the problem in the editorial is fascinating:
San Francisco's municipal authorities should use their best efforts in aid of the campaign to stop the use of narcotic poisons, which, notwithstanding severely repressive legislation, does not seem to diminish.
Lesson #1: Even "severely repressive legislation" has no impact on drug use.
The use of these injurious and demoralizing drugs does not appear to have been checked in any effective way.
Lesson #1 is re-stated.
The state association of pharmacists has been using its utmost endeavors to limit the sale of narcotics, and while it has done much to prevent trading in these poisons by reputable druggists, the result has chiefly been to raise up a class of illicit peddlers, who are willing, in view of the large profits, to take chances on going to jail.
Lesson #2: Prohibition results in a very lucrative black market which encourages people to turn to criminal activity.
Some of the victims of the narcotic habit have been driven from the large cities because of the high prices involved in law breaking, but they have continued to keep out of the clutches of the officials by going to the newer towns where things are wide open.
Lesson #3: When prohibition tries to clamp down in one area, it just pops up in another.
The military authorities at the Presidio are surprised to find the drug habit spreading among the garrison….
Lesson #4: No place is so secure that it can prevent supply from meeting demand.
Now, perhaps we shouldn't be too hasty to fault the editors of the San Francisco Call in August of 1910 for being unable to read the clear lessons in their own words and still suggesting a continuation of prohibition efforts. Perhaps they had limited historical background upon which to gauge the effectiveness of their suggestions.
But what's the excuse of the media 99 years later?