I apologize for the lack of posts this past two weeks. In addition to my being extremely busy in New York last week, and in Aspen, Colorado this week, my computer suffered a nervous breakdown. I thought I was going to be able to solve it by re-installing the system software, but the problem was more severe. I had to wipe the drive and do a fresh install, and then restore from a backup (my most recent one was prior to leaving for New York.
This was all made much more difficult by being on the road.
Now, the blogging software I use operates off one local computer to upload, so the restored backup doesn't think I had any posts since I left for New York, and is likely to eliminate those.
I have archived those posts and all the comments at this separate page so we don't lose anything.
This should take care of things so I can go back to semi-regular blogging.
In the meantime, I am still in Aspen, and tomorrow I start the drive back to Illinois with 16 college students (the Improv Mafia) who did a remarkable job here performing in the Aspen Rooftop Comedy Festival.
Here they are, really high…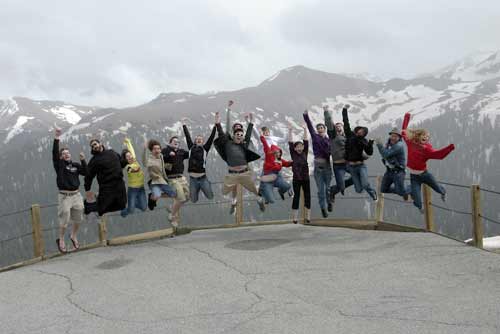 … 12,096 feet high, to be exact, above Independence Pass outside Aspen.