The Drug Czar went to Akron to try to score some child urine. But local officials are skeptical of the push for drug testing.
The superintendent suggested that perhaps the Bush administration should test itself before requiring the same of students.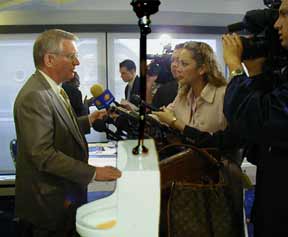 This is when our Drug Czar proudly showed his credentials:
Walters said some federal officials are being tested, including employees in his office, certain people under the president and vice president, and federal law enforcement officers.

"Nobody likes taking a drug test," he said.

The drug czar himself was tested before assuming his post.

He passed.
So Walters can pass a drug test. I'd rather he be able to pass a Constitution test. Or an intelligence test. Or a Social Studies and American History test (perhaps covering the prohibition era).
Of course, when it comes to our students, the Drug Czar would rather have them pass urine than the Bill of Rights.