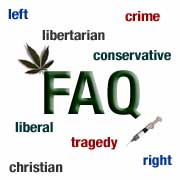 I get a lot of visitors to Drug WarRant. It can be a bit of a roller coaster, from the over 2,000 on Saturday when Metafilter gave this blog a mention, to 0 yesterday and earlier today when salonblogs' server was down.
While many of my visitors are already convinced that the drug war is a failure and that radical change is needed, others certainly feel that I'm out of my mind. Some are open to learning more, but have not come to a conclusion as to how drug policy reform would fit within their beliefs, and may not be ready to agree with some conclusions I have made.
In my new Frequently Asked Questions section, I am attempting to address the specific failures of drug war to a wide range of particular philosophical and political interests. I expect that this page will expand over time, and welcome suggestions for additional questions (or answers).
Go there now.