Judiciary Face-off
As I mentioned earlier this week, Attorney General John Ashcroft issued a directive requiring prosecutors to snitch on judges who use their own discretion and provide lighter sentences than Ashcroft wants. Senator Edward Kennedy accused Ashcroft of engaging in an "ongoing attack on judicial independence."
Now another Kennedy has entered the fray — U.S. Supreme Court Justice Anthony Kennedy. While not directly responding to Ashcroft, Kennedy took the opportunity in an address to the annual meeting of the American Bar Association yesterday to blast mandatory minimum sentences.
"I can accept neither the necessity nor the wisdom of federal mandatory minimum sentences," Kennedy said. "In all too many cases, mandatory minimum sentences are unjust."
Although Kennedy himself has voted on the Court to uphold mandatory minimums and finds them constitutional he noted that our "resources are misspent, our punishments too severe, our sentences too long," and that it is "a grave mistake to retain a policy just because a court finds it constitutional."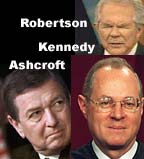 As Congress and the Administration continues to take pot-shots at the judiciary (not to mention Pat Robertson, who has organized prayer groups to convince God to "remove" several Supreme Court justices), it will be interesting to see whether or how the judiciary finds additional ways to assert itself.
Here's an idea. When the next medical marijuana case makes it to the Supreme Court, the justices could send a strong message to the administration by affirming that the Federal Government does not have the right to interfere with state law that is designed to protect the health of its citizens.