Lawmakers File Resolution Demanding Congress Apologize For The Racist War On Drugs
Rep. Bonnie Watson Coleman (D-NJ) and several colleagues introduced a House resolution on Friday calling on Congress to admit that the war on drugs has been a racially biased failure, provide justice to those negatively impacted by it and apologize to communities most impacted under prohibition.

Watson Coleman, a member of the Congressional Progressive Caucus and Congressional Black Caucus, introduced similar legislation calling for an end to the drug war in 2018.

This year's version goes further by explicitly condemning "the actions and role Harry J. Anslinger played in creating the War on Drugs," referring to notoriously racist anti-drug commissioner who served in the 1930s, and urging the creation of a select committee to "prioritize effective, evidence-based health policy solutions for individuals and communities suffering from addiction."

Language was also strengthened to say that "the House of Representatives should immediately halt any and all actions that would allow the War on Drugs to continue," whereas the earlier version simply implored a reconsideration of drug war policies.
I'm not holding my breath, but the mere fact that such a strong resolution would be introduced is incredible considering it wasn't that long ago that Congressional committees were actively talking about whether they could use the RICO act to arrest those who advocated legalization.
It's clearly a sign of the changed public viewpoint (particularly regards to marijuana, but marijuana criminalization has also been a driving force behind the entire drug war).
This viewpoint is most clearly demonstrated in the recent Pew Research Poll: Two-thirds of Americans support marijuana legalization. The contrast is startling.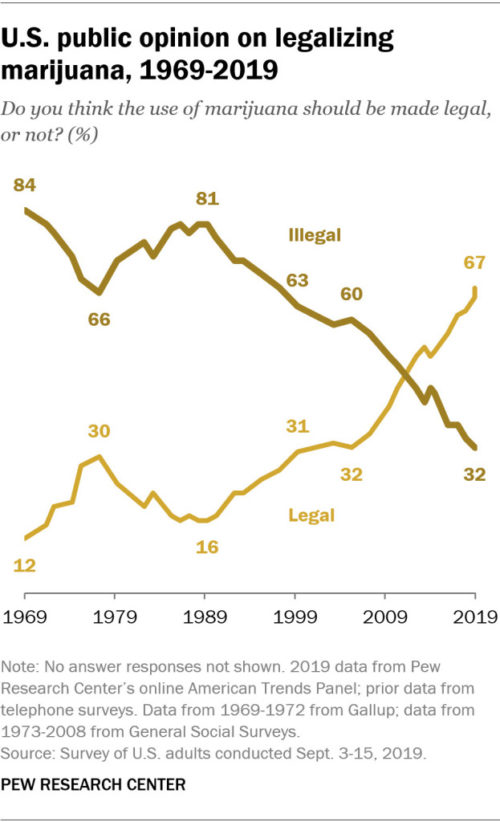 And we're already seeing signs that legalization hurts trafficking. Marijuana legalization is already making Mexican drug cartels poor
The loosening of marijuana laws across much of the United States has increased competition from growers north of the border, apparently enough to drive down prices paid to Mexican farmers. Small-scale growers here in the state of Sinaloa, one of the country's biggest production areas, said that over the last four years the amount they receive per kilogram has fallen from $100 to $30.

The price decline appears to have led to reduced marijuana production in Mexico and a drop in trafficking to the U.S., according to officials on both sides of the border and available data.
Glimmers of hope in a world of Idiocracy.