The underlying justification for most prohibitionists (other than sadomoralists) is that prohibition somehow is responsible for massive reductions in the use of drugs (and therefore a host of imagined societal-destroying maladies caused by drug use). Although you'll pretty much never find them willing to specifically compare the massive list of prohibition's costs to this imagined societal value, it's implied that the reduction in drug use is more than enough to put up with this "collateral" damage.
And yet, of course, no actual evidence has ever supported this view.
And here, yet again, is evidence that refutes it.
Why the Government should take lessons from Peter Tosh
Check out this chart of nine European countries that have had changes in penalties for marijuana use, and the shifts in marijuana use prior to and after that penalty change.: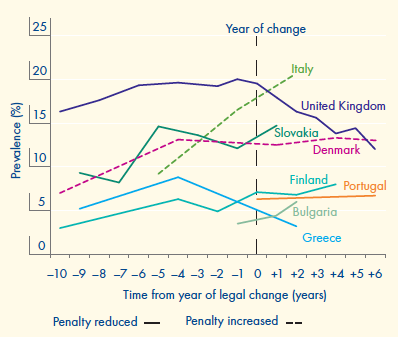 There are a lot of reasons for fluctuations in drug use in various countries. Legal penalties clearly don't make a difference.
So, for the 100,000th time, softening drug penalties does not "send the wrong message", or apparently any message at all. The vapid "drugs are harmful so we should keep them illegal" argument is straightforwardly wrong: some drugs are harmful, but it makes no difference keeping them illegal, except that it gives lots of criminals lots of money, causes crime and damages people health. It's a strange day indeed when Peter Tosh has a more nuanced approach to government policy than the Government does.
Maybe not that strange.