Prince George's County (yes, that one).
At Concord Elementary, the balloon release was "a way of cementing [students'] pledge to stay drug-free," said Principal Carolyn Y. George-Remy. […]

Everyone from kindergarteners to eighth-grade students at Beltsville Academy donned hats, college T-shirts, and goofy socks with loud prints last week in response to themes such as "hats off to being drug-free" or "sock it to drugs."
Students at Concord Elementary School in District Heights created a human chain and released balloons Wednesday afternoon as part of a Red Ribbon Week celebration. […]
…
Students "too cool" for cocaine and other addictive drugs wore sunglasses to school Wednesday to "shade out" narcotics. […]

Fifth-graders at Fox Elementary School competed in a contest this week in which they wrote a rap song about being drug free
…
Students Form Giant Red Ribbon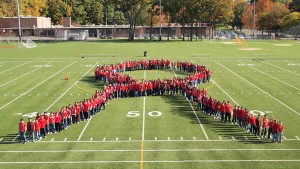 Tuesday: "Sock it to Drugs" day when students wore "wacky socks."

Wednesday: "Living Drug Free is no Sweat" day when they wore sweat pants.

Thursday: "Team Up Against Drugs" day when the kids were encouraged to wear gear from their favorite high school, college or pro sports team.