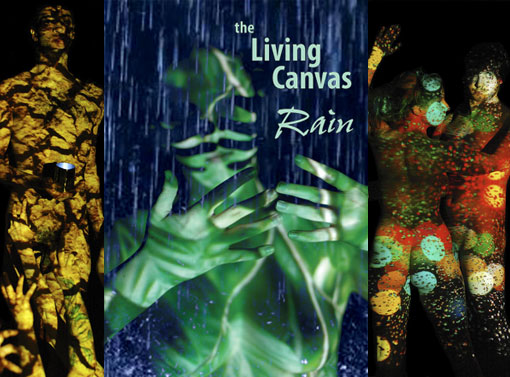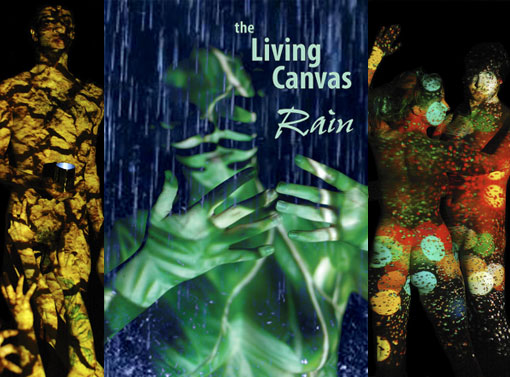 Some of you may be aware that I am involved in a lot of different interests and pursuits. One of them has been as photographer and Artistic Director of The Living Canvas. It started out as photography of the human body primarily using projections as the source of light (textures and other images interacting with the human form). Later it also evolved into a performance art form utilizing everything from dance, movement, and combat to Shakespeare and original stories exploring new territories.
The performers are all naked, yet clothed by the ever-changing projections. Each show is a collaboration with a lot of artistic partners, including a cast drawn from a wide range of interests and skills.
This year's show — The Living Canvas: Rain — opens Friday at National Pastime Theater in Chicago, and will be running Fridays and Saturdays at 10 pm through August 20. Tickets are $20 and available at NakedJuly.com. I'll be there almost all the performances leading the Q and A after the show. Check it out if you get a chance. If you have friends in Chicago, let them know about it.
Here are some reviews of past shows:
"Intriguing and fanciful… feast for the eyes." — Hedy Weiss, Chicago Sun-Times

"Intensely peculiar and mesmerizing… It's riveting." — Nina Metz, Chicago Tribune

"Stoners, Dali fans, sensualists of every stripe, this show's for you. Sober or otherwise, you'll find the visual pleasures of Guither's idiom considerable." — Brian Nemtusak, Chicago Reader

"'The Living Canvas' is as powerful as it is beautiful. Pete Guither has once again made his mark on modern theatre, this time pushing the envelope of artistic creativity to new realms … As part of National Pastime Theatre's Naked July Festival, Guither ingeniously showcases his ability to intertwine the beauty of the naked body with flowing motion, mesmerizing projections and a riveting storyline that invokes a wide range of emotions." — Buzz Magazine
---
In other traveling news, in addition to being in Chicago every weekend, I'll be traveling to Indianola Iowa to celebrate my Mom's 89th birthday on July 4th, and to Quincy, Illinois to celebrate my Dad's 89th birthday on July 7th. July 10-12 I'll be in Los Angeles to get together with some alumni friends, and later in July, I'll be judging an independent film festival that I'm sure I'll talk about later.