Here's a fun little thinking exercise for you.
I do my fair share of writing science fiction in my head (ie, daydreaming) and here's one I thought I'd share.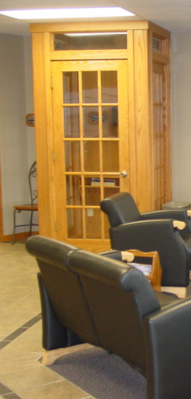 Imagine, if you will, a device, about the size of a phone booth, that can instantly sober up anyone. A built-in computer detects any substance anywhere in your body at the molecular level, and then can remove it all in seconds by acting through a parallel dimension. It could remove all traces of alcohol, pot, heroin, cocaine, etc., making you instantaneously sober (without the hangover or headache). There would be absolutely no residue — you could pass any drug test no matter how sophisticated.
There would probably be a little shimmer, like with a Star Trek transporter, but the only molecules going anywhere would be the ones you didn't want.
Of course, such a device could also probably be calibrated to go after cancer cells and other bad things, but let's not worry about that right now.
One good place to install these booths would be in drinking establishment. Let's say we charge $5 for the process and the bar keeps half. Other businesses might install them as well, or, perhaps there would even be a home version. Stopping by one of these before taking a drug test would guarantee that you'd pass it.
Seems to me that this would be a pretty handy device.
Here's the question… How would prohibitionists react to it?
MADD?
Drug Czar's Office?
Law Enforcement?
Representative Mark Souder?
Drug Treatment Industry?
Bensinger/Dupont/etc.?
Drug Testing Industry?