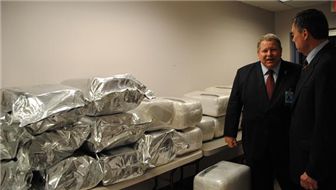 So the Drug Czar is pretty excited. He got to check out some seized drugs when he visited with the Arizona Region of the Southwest Border High Intensity Drug Trafficking Area (HIDTA) office. This was a pretty major operation that "netted 15 pounds of methamphetamine, 650 pounds of marijuana, 30 kilograms of cocaine and $800,000 in cash."
Yep, that'll win the war.
Let's see now, we add that to the other drugs that the DEA has seized since 1986 and what do we have…
31 thousand pounds of heroin
54 thousand pounds of meth
Over 3 million pounds of cocaine
Almost 15 million pounds of marijuana*
Well, that's certainly got to be all of them, right? There can't be anything left.
And yet.
The supply continues on unaffected.
When it costs so little to produce, traffickers can produce twice as much, three times as much as the demand if they wish, and it doesn't matter how much you seize, there's always more that will make it through.
Posing in front of seized drugs is like proudly holding up a bucket of water to fight a flood when the water's up to your knees.
…
*By the way, the marijuana seized by the DEA would be enough to give every adult in the U.S. an ounce.