Opening session (l-r) Kris Krane, Matt Palevsky, Rob Kampia, Bill Piper, Caren Woodson, Adam Wolf, Aaron Houston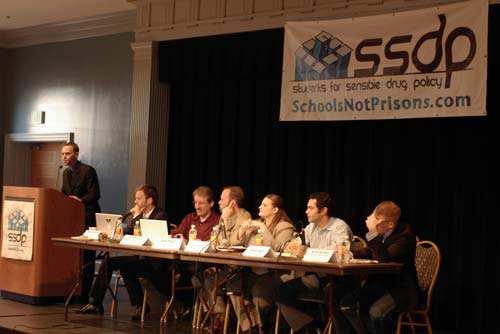 Kris Krane (SSDP Executive Director) started out with a stirring opening about how this generation of college students is going to make the difference.
Aaron Houston (MPP Government Relations Director) talked about the election. The good news is we lost a lot of bad drug warriors in government (including the fact that every Democrat that lost was strongly opposed to reform). He tried to speculate whether 2010 elections would be like 1994 (Democratic over-reach and blowback) or like 1934 (his take — 1934, based on economic crises).
Adam Wolf (ACLU staff attorney) talked about what the immediate priorities will be in the new administration for ACLU. Naturally, some of the top items will be things like torture, rendition, Gitmo, etc. Other items that relate to drug policy:
Stop denying that there is medical benefit to marijuana and re-schedule it.
Allow Lyle Craker to grow marijuana for research purposes (end the government monopoly for research marijuana
Stop selective prosecution of marijuana patients in an attempt to disrupt state programs — call for the AG to issue a directive not to pursue medical marijuana cases in medical marijuana states.
Abolishing the crack-powder sentencing disparity
Ban racial profiling
Judicial appointments (not Supreme Court necessarily, but the Courts of Appeal, where most cases end). Look for privacy as a value (which helps drug policy reform).
Other sentencing issues
Students' rights (he talked some about the girl who was strip-searched in her school because they thought she might have some ibuprofen). Also drug testing cases (including teacher drug testing cases).
Caren Woodson (Americans for Safe Access – ASA – Director of Government Affairs) talked about the fact that the Democratic Congress will be extremely cautious (many are in conservative districts) and may be afraid to embrace reform. Change won't happen quickly — it'll be extremely subtle. She is optimistic long term, partly because of the increase of factual studies supporting medical cannabis so that it is harder and harder for anybody to even claim that there is no such thing as medical cannabis.
Her priority areas:
Stop the raids
Permit affirmative defenses
Get NIDA out of the business of monopolizing marijuana research
Create a national medical cannabis strategy
Bill Piper (Director of National Affairs for DPA) talked about Prop 5 in California and its loss. He played one of the nasty ads against it that ran on TV featuring Dianne Feinstein.
Bill is optimistic, and excited, about the election (other than the Prop 5 loss, of course) and feels good about the chances for federal sentencing reform and needle exchange, in particular, but other areas as well.
Rob Kampia (Executive Director, MPP) talked about the efforts in Michigan and Massachusetts that resulted in decrim (Massachusetts) and medical marijuana (Michigan). He also played some ads they developed (I showed one or two of them here some time ago). Quote: "Medical marijuana is more popular than our past three Presidents" (referring to several medical marijuana referenda that won by a larger vote than the President in that state).