I experienced a fascinating synergy this weekend that has made me even more optimistic than my normal glass-half-full self.
An energized group of young people from colleges all over the midwest converged for a day of speakers and workshops here Saturday. These SSDP activists are bright, compassionate, and determined, and they're ready to make a difference. They see all the damage of the drug war, and understand the urgency to correct it. As part of that conference, I once again watched a video of clergy speaking out against the drug war and I listened to a former prosecutor with the same message. Powerful.
On Sunday, a large group of other students, most with no interest in activism, converged for a free screening of the comedy film "Super High Me." They were probably stoned — there merely to have a good laugh. And yet, as I watched them and listened to them — I was straight — I realized by the way they reacted that they all know the score. They know when they are being lied to, they know that they are being propagandized, they know the politicians and the DEA are wrong, and they know the truth of the simple message of the movie: "marijuana makes everything more fun." And that is also valid. In fact, it is by itself sufficient reason to emphatically deny and subvert prohibition.
On Saturday night, I experienced a performance event with an eclectic and delightful range of talents. And while I don't know how many were stoned, it got me thinking of all the creative work I have witnessed that was augmented by cannabis, and how creativity is the building block of true success in the world.
So I came away from this weekend with as mellow a feeling that one can have without actually being stoned. You know the feeling — a languid smile and the little shiver that comes from a deliciously subtle jazz progression.
How can prohibition win against such diverse unstoppable power? It can't.
Oh, sure, the naysayers will be quick to counter: "We've been fighting this for decades and yet we're still being arrested." And yes, prohibition won't be vanquished easily or swiftly.
But now and then, it's useful and therapeutic to remind ourselves that the end of prohibition is not only possible, but inevitable. Then it's just a matter of figuring out the best way to put it out of its misery.
Happy 420.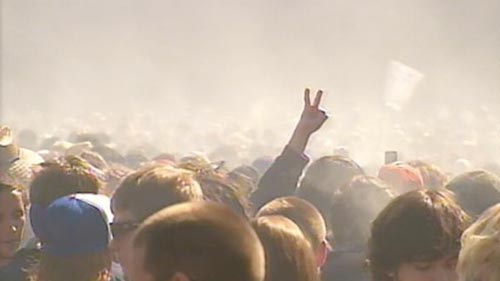 Thousands of Pot Smokers Celebrate 4/20