Scott at Grits for Breakfast has a piece about a low-life named Jon Cole who has surfaced in the Republican primary for the Texas House (District 67). Apparently he's using dishonest tactics that have angered everyone, including the Young Conservatives of Texas.
Cole's background? Working for the Drug Czar.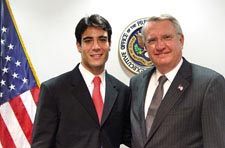 According to his bio:
Working for our nation's "Drug Czar" at the White House Office of National Drug Control Policy's Major Cities Team, Jon focused on the drug epidemic in Dallas, Houston, and other major cities. In his work, Jon analyzed the day-to-day efforts of law enforcement, government and citizens to help build national and local coalitions to combat teenage drug abuse. While in Washington, Jon learned firsthand the devastating effect Texas' porous borders have on the flow of illicit drugs into Plano and Dallas.
Yeah, right. Look at that photo. I'm guessing he was an intern, with no real responsibility and one opportunity to pose with the Drug Czar — a puke kid with a political internship because of his fundraising work for the Party. (I've found no online presence of him working for the ONDCP except in his own bio.)
Yet still, look how warped he emerged. Here is his primary issue:
Stop Liberal Drug Decriminalization in Texas

Renew Ronald Reagan's War on Drugs.
Increase the penalty for those who sell to children.
Double the penalty for those who addict children and turn them into drug dealers.
Secure our Borders! Drug peddlers from Mexico target Plano because of the high household incomes and teenagers who are innocent to the nightmares of drug use.
Expose and prevent liberal legalization schemes. Legislators in Austin are minimizing the rights of children and crime victims and allying themselves with liberals such as the ACLU and George Soros to decriminalize drug crimes and retroactively review previous criminal cases.
As if the Texas legislature has a history of being squishy soft on drugs.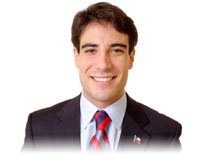 Now, I'm guessing that Cole was never a prize catch. If you look at his main photo, he looks like the rich a**hole boyfriend in the beginning of every B-movie romantic comedy before the girl realizes what a jerk he is.
But it probably took the White House Office of Drug Control Policy to completely warp him. I'm thinking that the toxicity of the ONDCP may suck out the soul of anyone who works there. Look at Andrea Barthwell, who has constantly jumped from one dishonest scheme to another since leaving the ONDCP. Even John Walters himself got his start assisting Drug Czar William Bennett.
Ah, if only we could get the EPA to shut down the ONDCP.