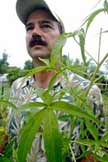 In the HoustonChronicle (via FARK):
Landscape contractor Blair Davis was in his northwest Harris County home around 2 p.m. Tuesday when there was a knock at his door.

Davis said he hadn't even gotten his hand on the doorknob when it flew open and he was looking at the barrel of a pistol.

Behind the gun were about 10 members of the Harris County Organized Crime and Narcotics Task Force, who burst into the home, guns drawn, and began shouting at him to get down on the floor.

There on the floor, Davis said, it took a while to figure out that what had caused the swarm of lawmen to descend upon him was the hibiscus in his front yard …

But: "It's got white buds on it," Davis said. "Hello." …

Davis said the team of narcotics officers combed his house for about an hour, at one point discussing whether red and gold bamboo growing in his window might be marijuana. They also asked what he did with the watermelons and cantaloupes growing in his back yard.

"What would I do with them?" Davis said.

Finally the officers gave up and left, leaving Davis only a "citizen's information card" with "closed-report" written on it.
Again, Drug Task Forces are completely out of control. Citizens need to start getting together and disbanding these entities now.
Hibiscus? And does a dangerous drug trafficker (who needs to be subdued by an armed 10-man task force) grow marijuana in their front yard? With white flowers? And what if Blair Davis had been legally armed? Would he be dead now?
Update: Just read Libby's coverage of the same story (she had me beat by a few hours). We do think alike.