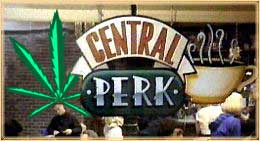 TWO policemen flanked the doors of the Purple Haze cafe in Leith at 4pm, as Scotland's first ever cannabis cafe prepared to open its doors.

The cafe had earlier been swamped with camera crews, photographers and reporters as owner Paul Stewart outlined his proposal for the cafe.

As the doors opened, around 30 prospective punters, who had gathered outside in the freezing cold, began filing in.æ The police handed each one a letter explaining that the possession of cannabis was still an offence.
So began the first day in the UK of cannabis downgraded to Class C, as reported by the Edinburgh Evening News. Although the classification provides for a fair amount of decriminalization, marijuana is still illegal, and people can be arrested for possession. This is somewhat dependent on the philosophy of the local police.
After a few hours a distinctive smell began to come from the cafe doors.

After nearly three hours of business, police officers moved into the cafe and began charging customers, many of whom had been there since it opened.

Insp Phillip later said three people had been charged and added their details would be passed on to the procurator fiscal.æ He said he was satisfied the "appropriate" action had been taken.

Among those caught was Mr Stewart, who will now face charges of allowing people to take drugs on his premises.

He vowed to fight the charges, saying that human rights lawyers had already contacted him offering to represent him.

"It was a good night, although with the glare of the media and all the police attention there were bound to be a few teething problems," he said afterwards.

"We will be challenging these charges, as I feel they are totally illegal.æ I was very happy with the way the Police handled the event, though, and there was no trouble when they charged people.
It'll be interesting to see how things settle. That's what will matter. The greatest fear of the drug warrior is that marijuana will be used commonly and the sky won't fall. (Much like this summer in parts of Canada when it was temporarily legal to possess cannabis.) Then the slumbering masses of matrix population may just wake up and wonder why we've been spending so much of our resources incarcerating people for smoking pot.