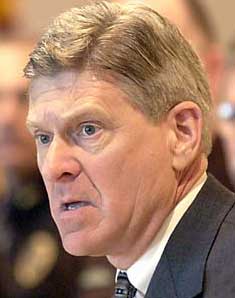 Take a good look. Scary, intense, powerful U.S. Attorney for Nebraska appointed by George Bush. According to the Lincoln Journal Star, he calls his work "part of the United States' push for narcotics 'demand reduction.' When U.S. officials ask countries such as Mexico and Colombia to fight drug supplies, he said, officials there ask Americans to fight demand."
Wednesday's announcement followed a months-long narcotics investigation of shops that sell water bongs, hookahs and other items used to smoke, conceal or consume illicit drugs under the premise of tobacco use.
Yep, that's right. Mike Heavican, after months of investigation, discovered stores were selling pipes (something customers discovered by looking in the window).
Eric Sterling, who oversees the Criminal Justice Policy Foundation, a Maryland-based national civil liberties organization said:
"The goods are out there in the public eye, so it requires absolutely zilch investigation.
"It's easy, cheap and headline-grabbing."
Heavican disagreed:
Many drug dealers, addicts and users would not seek "the carrot of treatment" without "the stick of prosecution."
Huh?
Thanks to TalkLeft for the tip, and now, if you don't mind, I'll finish this post with excerpts from an earlier post of mine from September: Chong Bong Gone Wrong
I asked my friend George how this affected him:
"Well, you know, I like to toke up a little on the weekends, particularly when I'm watching the Sci-fi channel. But now that you can't buy bongs, I guess I won't be able to anymore. It really sucks, 'cause I've got a whole ounce of BC Bud that I'm going to have to throw out.

"But hey, I understand. They've gotta fight those terrorists, and I heard there's some kind of connection there. I guess the terrorists use the bongs for, uh, something."
To help all those drug users who no longer can smoke their pot, I am going to break the law and offer special marijuana pipes online. DEA, and Mike Heavican, come and get me.


These pot paraphernalia pipes are pictured at right. Now, some people say that these items can be used for bizarre purposes like eating, making pies, or target practice for expert archers. But I'm here to tell you that their purpose is for smoking pot.
So, here is the link to purchase your own Apple Pipes.
(Note: some assembly required, pen shaft and aluminum foil screen not included)