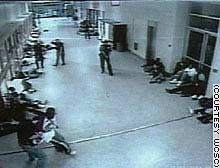 (Background here in case you somehow missed it).
The only good thing to come out of the police raid at Stratford High School is the fact that it has actually received a good deal of national attention and outrage. It's important that we keep a fire under the issue (so it doesn't plame out), so you'll continue to hear updates on this site.
First, a strong editorial from the Rock Hill, S.C. Herald:
We hope state Attorney General Henry McMaster will give due attention to the case of the drug sweep at Stratford High School in Goose Creek. A reprimand from McMaster might help prevent such highly questionable police behavior from occurring at other schools in the state…

This incident has provoked outrage nationwide, and for good reason. Police conduct clearly was over the top, and officers are fortunate no students were shot or otherwise injured.

In this case, the biggest threat to law and order was the police themselves. We hope McMaster will waste no time in reviewing this case.
Next, some national attention:
The Rev. Jesse Jackson said Thursday he wants U.S. Attorney General John Ashcroft to intervene and call for the prosecution of police involved in the Nov. 5 drug search at Stratford High School in Goose Creek and the fatal shooting two days later of a mentally ill black man in North Charleston.

In a separate move in the drug-raid case, the state chapter of the American Civil Liberties Union plans to file a lawsuit Monday on behalf of 20 students. It claims Goose Creek officers used excessive force, falsely imprisoned students and violated search and seizure laws, said Executive Director Denyse Williams.

"We just want to make sure this never happens to any child in any school again," she said….

"We want to meet with Ashcroft on this matter," Jackson said. "The Department of Justice must assure people their basic rights will be protected."…

I think it's unconscionable, bigoted and reprehensible to have unholstered guns and dogs in the presence of children…" said the Rev. Joseph Darby of Morris Brown AME Church in Charleston. "I would hope (Jackson's) visit is followed up by positive action by local leadership."

Parent Sharon Smalls said she hopes Jackson's presence will unite residents.

"I think the community thinks this is a black-and-white issue, and it's not," said Smalls, who said officers slammed her son to the ground. "It's a right-and-wrong issue."
I'd pay money to be in the room when Jesse Jackson asks John Ashcroft to investigate drug war abuses.
Finally, check out Marsha Rosenbaum's article Stop Pointing Guns at Our Kids last week at Alternet:
Today's parents, like those in Goose Creek, are skeptical of policies that demonize and frighten their teenagers without ensuring their health, well-being, and safety. If total abstinence isn't a realistic alternative, we want our teens to be educated about drugs by giving them scientific, honest information, not exaggerated claims designed (unsuccessfully) to scare them. We want school policies that protect students without jeopardizing the future of those who make immature mistakes. We want counseling and support, rather than humiliation, suspension, expulsion, or, as in the case of Stratford High, violence.

Our children's safety should be top priority when it comes to educating them about drugs. Pointing guns at their heads is not the answer.
Update:The ACLU has an 8 minute video of the event, narrated by the principal, available here (RealAudio file), today's press release is here, and the text of their complaint filing is here.