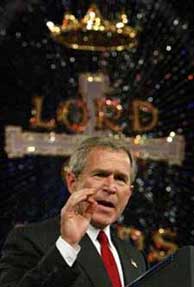 BUSH TO TEENS: RELIGION HELPED MEND MY WAYS
President Bush, speaking Wednesday at a youth center in Oak Cliff, gave an unusually candid assessment of religion's role in leading him from his wayward youth.
"Sometimes, and a lot of times, the best way to help the addict, a person who is stuck on drugs and alcohol, is to change their heart," Bush said.
The 1,538,813 Americans arrested for drug abuse violations last year were unavailable for comment.
Update:Added the AP Photo by Charles Dharapak from the dedication of Oak Cliff Bible Fellowship's Youth Education Center.