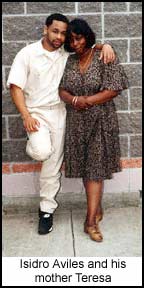 I'd like to tell you about a remarkable woman and her son. As you join with your family and give thanks for what you have, maybe her story will move you to help those who have been separated from their families.
Isidro Aviles
Isidro was 26 years old in 1990, when he was arrested in New York on a crack-cocaine conspiracy charge along with 109 others. He was caught with $52 and no drugs, and the case was based solely on the $52 and the bargained testimony of a repeat criminal.
Isidro was given about 45 minutes to accept the plea bargain offered. The deal: if he pled guilty, his mother and sister wouldn't have to go to jail! His mother begged him not to sign, but an FBI officer told her to sit down or she'd go to jail. He signed.
Isidro's plea bargained sentence? 23 years.
7 years, 7 months and 1 day into his sentence, Isidro died of an untreated, undiagnosed illness.