I realized today that I missed something from the government's most recent National Survey on Drug Use and Health from the Substance Abuse and Mental Health Services Administration (SAMHSA). Of course, they distributed the results they wanted known widely through press releases — lots of statistics about various changes in drug use patterns, and some play on the fact that there were 19 million current illicit drug users.
However, I had not seen any reports that showed lifetime illicit drug use, but I knew it had to be in the report. Sure enough, in Table C.13 we discover:
| | |
| --- | --- |
| Lifetime Any Illicit Drug % | 46.04% |
| Lifetime Any Illicit Drug # | 108,250,000 |
| Lifetime Marijuana % | 40.38% |
| Lifetime Marijuana # | 94,946,000 |
That's right. Over 100 million people have used some illicit drugs in their lifetime and almost that many have used marijuana. Practically 1/2 of the population.
So what does this tell us? (of course these are things that most of us in the drug policy reform field already know)
Over 80% of people who have used drugs are not current drug users, let alone abusers (so much for the certain enslavement properties of drugs).
Arresting drug users is futile, since you'd have to arrest half of all U.S. citizens.
This inspired my latest design for the Drug WarRant merchandise at CafePress: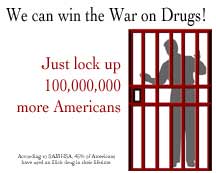 Of course, if we actually put all those who have used illegal drugs in jail, it would cost over two trillion dollars a year to do so (just imagine the tax rates for the remaining population!)