Some disturbing news: In Mexico, a drug war like none before
NUEVO LAREDO, Mexico — Members of an elite Mexican army unit have deserted and formed a drug gang, using their military training to launch a violent battle for control of this border city, Mexico's top anti-drug prosecutor said in an interview with the Associated Press.

The war for Nuevo Laredo is unlike other recent drug conflicts — it's a turf war involving most of Mexico's major cartels in broad alliances not seen in a decade. It has the Mexican army fighting an organized unit of former comrades, and it has cost American lives.
This despite the statement on the Drug Czar's website:
Since President Fox assumed office, Mexican law enforcement officials have displayed an unprecedented willingness to cooperate with U.S. officials, and the Government of Mexico has significantly improved bilateral counterdrug cooperation.
and also:
In a June 26 statement marking the 15th annual International Day
Against Drug Abuse and Illicit Trafficking, U.S. Drug Czar John
Walters said Colombia and Mexico, among others, "are demonstrating
that cooperation, dedication, and hard work in attacking the illicit
drug trade lead to success."
On the other hand, Canada has just endured a summer where in many parts marijuana possession was effectively legal. Additionally, Vancouver opened a safe injection site. The sky didn't fall, armed militias didn't take power, and the population didn't start killing each other. However Drug Czar Walters called Canada a "blemish", accused the country of promoting "state sponsored suicide" and declared that Canadians are "ashamed" of their Prime Minister. Additionally, the peaceful Dutch have been admonished by the Drug Czar for not taking away more of their citizens civil liberties.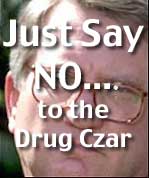 There's a lesson here.
If I was the leader of a country, the last thing I'd want to do is cooperate with the Drug Czar's foreign policy. Just doesn't seem like a smart move. In fact, I'd try to do whatever would most irritate him, in order to insure a healthier, more peaceful society.
And all of that great drug policy foreign aid in the form of toxic chemicals and helicopters and weapons to fight the war on drugs? "No thanks," I'd say. "We'll be just fine without your help."
____
P.S. — Walters is presumptuous to claim that Canadians are ashamed of their Prime Minister. That's up to them. Just like it's up to us to say that we're ashamed of our drug czar.