Americans Less Concerned About Drugs Than Ever: Poll
Sixty-five percent of Americans say that drug problems in the U.S. are "extremely" or "very serious," according to a Gallup poll released Friday.

That's the lowest level of concern the firm has found since it first asked the question 16 years ago, and it comes at a time when the county is experiencing what many experts have described as an "epidemic" of opioid overdose deaths.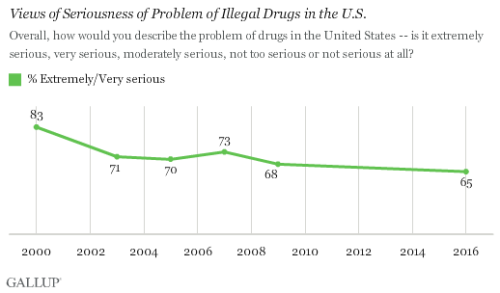 Gallup attributes the drop in concern about drug problems nationally to younger adults, "who have never known a time when drugs were among the most prominent issues on the national landscape," such as during the Reagan administration's "Just Say No" campaign. "They have also come of age at a time when Americans, particularly those in their age cohort, support legalizing marijuana."
I would say it also has something to do with the work of drug policy reformers, who have actively and constantly countered both the stereotypes and the propaganda of drug warriors.
And there's the reason that this lowering of concern, which I would also consider an increase in actual knowledge, is so good. It means that politicians and those who feed off the drug war trough now have a tougher time using "drug fear" to get what they want.
It used to be that all they had to do was say the word "drugs" and the Supreme Court, Congress, and the American people would bend over and relinquish rights, justice, and common sense. Perhaps that era has passed.