Of course, throughout history, our government has coopted all kinds of cultural icons to help promote its destructive war on drugs (and I'm sure some participated in good faith because they themselves had been blinded by the years of propaganda). I was reminded this morning of this: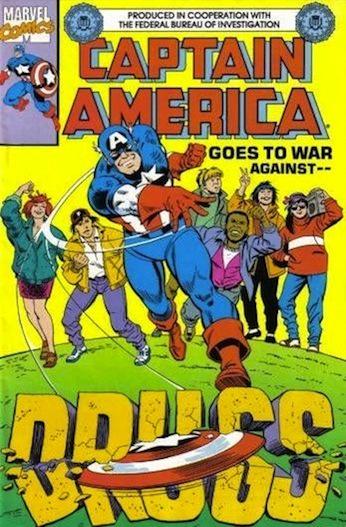 It was 1990, and it was a free issue "Produced in Cooperation with the Federal Bureau of Investigation"
Back in 2011 Cracked had an article that described the completely inane attempt at using Captain America this way: 6 Comics That Covered Serious Issues and Failed Hilariously
Captain America seems like a perfect "Don't do drugs" spokesman until you remember that it was getting shot up with a "super soldier serum" that let him gain muscles the size of basketballs and become a superhero. So that makes him pretty much the Barry Bonds of superheroes and the second-worst person to star in a PSA comic about substance abuse after Pablo Escobar.

The "Captain America Goes to War Against Drugs" story is so epic it spans two comics, and it's so offensively stupid that the DEA might as well have tattooed DRUGS on their knuckles and punched all the kids who read this comic in the face instead.
It goes on in detail to describe the bizarre story in this comic.
And, of course, there were others. Check out The American Soft Drink Industry presents DC Comics' The New Teen Titans in cooperation with The President's Drug Awareness Campaign, complete with a letter from Nancy Reagan.
….
Speaking of propaganda, remember the old "This is your brain on drugs"?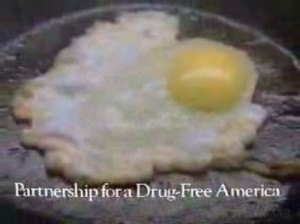 It's been rightly ridiculed over the years, but now there's a new version that's a lot more interesting.
The tagline of the most famous anti-drug campaign of the late 80s is now the title of a series of beautiful posters created by Duke University senior Meaghan Li. Li majors in public policy and minors in graphic design. This project was created for a psychology class that delved into different aspects of substance use and abuse.
This is your brain on drugs.