One of the most pathetic elements to prop up prohibition is the uncertainty argument put forth by the so-called academic experts in drug policy in the United States.
"We can't even talk about legalization," they wail. "It's too uncertain."
They're fully willing to admit that prohibition itself is destructive and that what we are doing in the United States isn't working, but as policy-wonks — the very people who should be looking as closely as possible at every alternative to failed policy — they refuse to even seriously consider the one viable alternative.
"We don't know what will happen," they moan.
And no, we don't know for 100% certainty what will happen, largely because the prohibition juggernaut has fought every step of the way to prevent a single fully functioning laboratory of legalization. But that doesn't mean there's no data.
We point out Portugal.
"That doesn't really count," they complain. "Portugal is a different country. It's not the United States. Besides, it's not legalization."
OK, so how about legalizing marijuana in California? Let's see what we can learn from that? There's your lab – a perfect opportunity. "No," they whine. "We don't know what will happen and we're not sure we like the details."
So don't worry, Latin America. We won't be doing anything soon about your drug war problems, because we don't really want to talk about it.
No reason to talk about drug legalization, expert says
WASHINGTON – Drug legalization in the United States "is not going to happen in our lifetime," Peter Reuter assured a group of Latin American diplomats and journalists Thursday.

The founder and director of the RAND Drug Policy Research Center from 1989-1993, said it was a "seductive idea" but it will not happen due to the huge uncertainty on the effects such a measure would have on society.

"No one has taken it seriously enough to look for a blueprint of what that would look like," he said.
Really? Really?
So who should be the one to take it seriously enough to, oh, I don't know, come up with a blueprint of what that would look like? You'd think maybe a think tank with academic policy researchers might consider doing such a thing.
In fact, they have (though not in the U.S.). They're called Transform and their serious research paper is even called a "blueprint." After the War on Drugs: Blueprint for Regulation It's even a free download.
That's what happens when you have researchers who actually research.
But don't we have think tanks with researchers here who study drug policy in the U.S.?
Let's take a look at what we have passing for research. RAND produced (co-authored by Peter Reuter) An Assessment of U.S. Drug Problems and Policy in 2005.
Nor do we explore the merits and demerits of legalizing drugs, even though legalization is perhaps the most prominent and hotly debated topic in drug policy. Our analysis takes current policy as its starting point, and the idea of repealing the nation's drug laws has no serious support within either the Democratic or Republican party. Moreover, because legalization is untested, any prediction of its effects would be highly speculative.
Nothing to see here. Move along. No point talking about it. All you people dying in the drug war? Families broken up by our prison system? People overdosing on bad drugs? Sorry. You're on your own. We've got uncertainty problems here. You couldn't possibly know what that's like.
Reuter: I am really struck by the lack of suggestions as to what the Mexican government should do other than just give up. I don't have any good ideas, and nobody else does, either.
…
I have this mental image of some old sci-fi movie where a massive mechanical monster lays waste to entire cities. The Joint Chiefs are in an underground bunker watching the destruction continue as they futilely try one thing after another to stop the juggernaut. They send in the army to shoot it, but it has no effect. They dig ditches, try fire, and they drop massive bombs, but it only seems to make the monster stronger.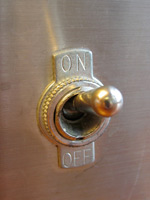 At some point, they realize that they've used everything that they have in their arsenal with no positive result and that the destruction of earth is inevitable.
From the back of the room, a janitor who was mopping up some spilled coffee hesitantly speaks up, and says: "I noticed on the monitors that there's a switch on the side of the monster. Why don't we just turn it off?"
The government scientist whirls in his chair and yells "My God, man. Are you insane? We have no idea what that would do!"