Britain joins Canada in approving liquid marijuana as prescription medicine.
WASHINGTON, D.C. — It was announced today that Sativex, a cannabinoid-based liquid medicine sprayed under the tongue, has been approved for use in Great Britain to help treat the muscle spasticity suffered by multiple sclerosis patients. Sativex is a natural marijuana extract that is produced by British-based GW Pharmaceuticals. It has been approved for use in Canada to treat neuropathic pain since 2005.

"Once again, the scientific community has confirmed that marijuana is medicine and it can provide safe and effective relief to patients suffering from certain conditions," said Rob Kampia, executive director of the Marijuana Policy Project. "Sadly, our federal government, through the Drug Enforcement Administration, has blocked effective research into the therapeutic effectiveness of marijuana. The United States could be leading the world in the development of cannabinoid-based medicines, but instead our government has ceded this industry to the U.K., while intentionally prolonging the agony of patients in this country."

Economist promotes legalization debate. Via Transform
As part of its latest promotional campaign The Economist magazine has launched a series of 'where do you stand?' debates built around a billboard poster campaign outlining opposing views on a series of contentious issues. One of the issues they have chosen is whether drugs should be legalised and regulated, perhaps unsuprising given their prominent interest in this debate, and indeed support for the reform position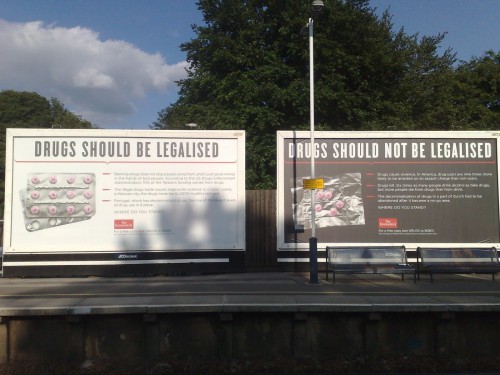 Danish police officer refuses to arrest pot smokers
[Thanks, Jesper]

Interesting development in the case of drug war victim Rev. Jonathan Ayers.
GBI agents have arrested the Training Coordinator for the Stephens County Sheriff's Office in connection with an ongoing investigation into the status of training records of the drug task force officer involved in the shooting death of Jonathan Ayers in Toccoa last September. […] The charge stems from false statements Lt. Wilson allegedly made to agents last Friday related to training records of Billy Shane Harrison, an officer with the multi-jurisdictional drug task force in Toccoa
[Thanks, Jewel]

Calderon defends drug war, many Mexicans skeptical
Gunmen slaughter 19 men at a rehab clinic. Sixteen bodies are dumped in a northern city. Twelve police officers die in an ambush. Soldiers kill 15 gunmen outside a tourist town.

All this in less than a week, yet President Felipe Calderon believes Mexico is getting a bad rap and wants to hire a public relations firm to improve its image. He might want to start with convincing his own countrymen, who are frustrated by assurances that the drug war is going well.
Yeah, that's what the drug war needs. A public relations firm.

This is an open thread.