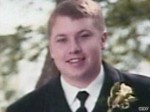 Jonathan Ayers was a pastor at the Shoal Creek Baptist Church. One of the people he had been helping was a woman who had a history of problems. One day he gave her a ride and talked to her to see how she was doing. She said she needed some help with back rent, and he gave her $23 — all the cash he had on him.
Ayers didn't know the woman was being targeted by an undercover plainclothes drug operation. When he dropped her off, they decided to follow him. Ayers immediately went to the convenience store to get some cash from the ATM. Walking out with cash from the ATM, he saw some guys with guns get out of a car. Fearing for his life, he got in his car and pulled out (remember, these were plainclothes cops). The cops shot and killed him as he drove off.
Here's the blurry video from the Convenience store showing officers shooting at him as he drives away. Here's the update back in October from Radley Balko.
Now we have a new update on the case:
Grand jury clears officers in minister shooting: Officials claim law enforcement fatally shot pastor after he drove car in threatening way
"Concerning the actions of the officers involved in the death of Jonathan Ayers on Sept. 1, 2009, we find that the use of deadly force by Agent Billy Shane Harrison was legally justified based upon his objectively reasonable belief that such use of force was necessary to prevent death or great bodily harm to himself or others," a statement signed by the grand jurors read. "Based upon this finding, we the Grand Jury believe that the officers involved in this incident would be immune from criminal prosecution pursuant to Official Code of Georgia Annotated 16-3-24.2."
Surprised? I thought not. Happens all the time in the drug war. Officers create a dangerous situation where none existed and then blame the victim for being in that dangerous situation.
The family of Jonathan Ayers isn't giving up. They're suing.
"We are in the process of gathering all the facts surrounding this terrible incident," [family attorney] Stroberg said. "Once all these facts are in public view, we feel it will be abundantly clear that there was no legal justification for the undercover drug agent to shoot and kill Jonathan Ayers in broad daylight on the streets of Toccoa, Ga."

Stroberg has been critical of how the case was presented to the grand jury. He said the panel that convened this week was charged with deciding only whether the case should go to a separate grand jury for possible criminal prosecution.