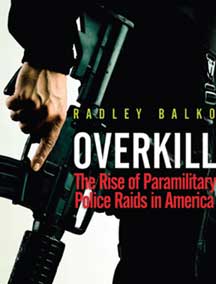 Radley Balko's long-awaited white paper has been released today.
You can read it for free as a downloadable 1.6 MB pdf at the CATO Institute, or purchase "the slick bound copy" at the bookstore for just $10. (the CATO bookstore seems to be having some problems right now — hopefully that will be fixed shortly. I want copies to give to people.)
This is an extremely well-researched paper, with way too many documented sad examples of overkill, and some well-though-out conclusions about police raids.
This will be a very important document in the fight to restore law enforcement to its proper functions.
Radley also has developed an interactive map showing where the documented raids and deaths have occurred in the United States.