Growing up in Chicago, I have many fond memories of the Museum of Science and Industry. I spent so many hours in that place that I have as much sense memory of parts of it as I do the house I lived in as a kid. I loved science, and the museum encouraged discovery. Sure, some of the exhibits were a little hokey, but you still had fun and learned at the same time.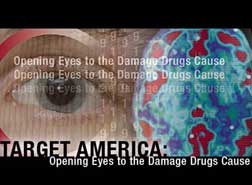 It is therefore with much concern that I note that the Chicago Museum of Science and Industry will be hosting the DEA propaganda device called "Target America: Opening Eyes to the Damage Drugs Cause", opening August 11 and running until December.
It's an exhibit developed in partnership with AFFNA DEA Museum Foundation, The Center for Substance Abuse Prevention, The National Guard, The National Institute on Drug Abuse, The Office of National Drug Control Policy, The Partnership for a Drug Free America, and presented by McDonald's.
Additional sponsors include: Motorola Foundation, The Crown Family, Chicago Blackhawk Hockey Team, Inc., Chicago Sun Times, Richard Driehaus Charitable Lead Trust, The Brunswick Foundation, Chicago Community Trust, Aon Corporation, Bensinger, DuPont & Associates, Judd A. & Marjorie Weinberg Family Foundation, LaSalle Bank, Mallinckrodt Pharmaceuticals, Reyes Holdings, Wintrust Financial, Peter B. Bensinger, Jr., William Blair & Company LLC, The Ryne & Margaret Sandberg Foundation, Steans Family Foundation, Mr. & Mrs. David O. MacKenzie, The Bernard Rinella Family Charitable Fund, J.B. Charitable Trust (Philip D. and Judith S. Block), Margaret & Philip Block Jr. Family Foundation, Mr. & Mrs. Robert W. Crawford, Jr.
Some letters to the Sun Times may be in order…
This is a continuation of the extraordinarily offensive DEA exhibit that uses pieces of wreckage from the World Trade Center with children's toys mixed in as a means of promoting the DEA!
I wrote to Lisa Miner, the press representative at the Museum over a month ago, but haven't heard anything back yet. All i wanted to know is whether, as a museum, MSI exerted any curatorial decision-making over their exhibits, or whether they just accepted it as is because it was sponsored.
TARGET AMERICA: OPENING EYES TO THE DAMAGE DRUGS CAUSE
August 11 – December 3, 2006
Most Americans are unaware of the tremendous costs associated with the production, sale and use of illegal drugs. The costs to society (estimated at more than $60 billion a year) are borne by all of us in some way. This exhibit is designed to open eyes to the myriad costs of drugs — to individuals, American society and the world — and to inform people of how those in the illegal drug trade are caught and brought to justice with current science and technology. Target America is an exhibit from the Drug Enforcement Administration Museum that presents both a global and historical overview of the many costs of drugs on society, as well as the drug trade's connection to terrorism.