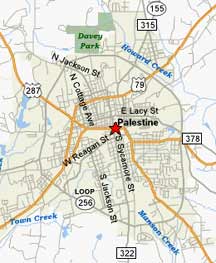 I've neglected following up on the new Tulia due to other distractions, but it's been well covered by the other drug policy blogs. Grits for Breakfast continues to be all over the story.
Be sure to read The Usual Suspects by Dave Mann of the Texas Observer.
When the arrests came two years later, residents of Palestine must have been surprised to learn that their small town apparently had more crack dealers than restaurants. On Oct. 13, teams from the Anderson County sheriff's office, Texas Department of Public Safety, U.S. Marshall's Service, and the Drug Enforcement Agency (DEA) started at 7 a.m. and swept through tiny Palestine (population 17,000) to round up an astonishing 40 indicted drug dealers.

More arrests followed in the coming days. In all, a total of 72 Anderson County residents were detained on various state and federal drug dealing charges. After the arrests, the U.S. Department of Justice put out a celebratory press release that boasted of cracking a large Anderson County drug distribution ring.

"This coordinated effort shows the success that can be achieved when resources and people are pooled together," U.S. Attorney Matthew Orwig said in the statement. Curtis Bitz, head of the Dogwood Trails task force, told the Lufkin Daily News, "There's no question as to whether they did it or not."

An examination of the charges, however, raises questions about the drug bust, especially about the sheer number of people charged as dealers. Could there really be 72 crack dealers in little Palestine? And is it only a coincidence that all 72 of them are black?
Keep the pressure on this one.