Via Grassroots Buzz comes this horrible news from Drug War Chronicles.
First, the drug testers came for the

chess players

, and we did nothing. Now the inexorable, totalitarian logic of drug prohibition has invaded the laid-back domain of competitive Frisbee, or, in this world leery of copyright infringement, flying discs. The sport's governing body, the World Flying Disc Federation (WFDF), voted May 2nd at its annual conference in Santa Cruz, California, to adopt the World Anti Doping Code, a drug testing regime that will subject Frisbee players to rigorous, Olympic-style drug testing.

…competitive Frisbee-tossers will be punished not only for using performance enhancing steroids, but also for having smoked marijuana within recent days. … The United Kingdom Flying Disc Association News, warned its readers that even participation in student events sanctioned by the WFDF could get you drug tested.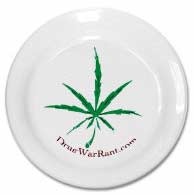 What can you do to stop the infringement on the inalienable rights of Americans to enjoy competitive frisbee with a nice mellow high?
Contact the board members of the WFDF and let them know what you think.
Buy one of these marvelous flying discs from the Drug WarRant shop and tell the world what you think.
Update: The WFDF have clearly abandoned their roots in this decision. From Wikipedia:
Teenagers from Columbia High School in Maplewood, N.J. invented the game of Ultimate initially as a joke in 1968. The school council president and newspaper editor Joel Silver proposed a school Frisbee team on a whim in the fall of 1967. That spring a group of students got together to play what Silver claimed to be the "ultimate sports experience" by adapting the game Frisbee Football in 1968. Silver, now a Hollywood film producer (48 Hours, Weird Science, Lethal Weapon, Die Hard, The Matrix), first played Frisbee Football at a camp in Mount Hermon, Massachusetts in the summer of 1967. The students were not very athletic, either nerds or druggies. While the rules governing movement and scoring of the disc have not changed, the early Columbia High games had no sidelines, no limit to team size, and allowed referees. Gentlemanly (and ladylike) behavior and gracefulness were held high. The first intercollegiate competition was held between Rutgers and Princeton on Nov. 6, 1972, the 103rd anniversary of the first intercollegiate football game, and at the same site on the Rutgers New Brunswick campus. The popularity of the game quickly spread, taking hold as a free-spirited alternative to traditional organized sports. Men would often play the game in skirts, and some would smoke marijuana on the sidelines.