… is 7th Avenue between 28th and 34th Streets (outside Madison Square Garden) from 2pm to 6pm.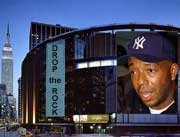 That's when Russell Simmons and others are hosting a massive rally and hip-hop summit to protest the Rockefeller drug laws in New York and other mandatory minimum laws around the country. Sean "P. Diddy" Combs, Nas, 50 Cent, Ludacris, Mariah Carey and Carly Simon are among those slated to attend the rally.
Russell Simmons declared, "This will be the biggest hip-hop gathering ever,
and we intend for our voices to be heard. We will not be silenced. The March
on New York is going down. It will be the illest march in history.."
Let's see now… Checking Madison Square Garden's reservation book… August 30.. Ah, here it is: the opening day of the Republican National Convention. Should be very interesting.