For some years now, the Office of National Drug Control Policy (ONDCP) has had a public agenda of fighting marijuana legalization by promoting the dangers of "drugged driving," pushing for zero-tolerance laws that would essentially make it illegal for anyone who uses cannabis to ever drive, regardless of impairment.
They have regularly lied about the science behind cannabis and driving, often by implying that testing positive is the same thing as impairment (this writer even filed a successful petition for correction of some of the false information on the ONDCP website).
On Thursday in Vienna, at the 58th Session of the Commission on Narcotic Drugs, the United States and a few others led a session titled "Developing a comprehensive response to the challenge of drug-impaired driving."
At this session, Richard Baum, International Policy Branch Chief at ONDCP made some remarkable statements, as reported by CND Blog (Note: CND Blog reports as events happen at the sessions and paraphrases the statements made, so this is not an exact quote. I'd be happy to post any clarifications or corrections.)
Richard Baum , ONDCP, US

This is an important issue because it is a factor that affects people've lives in many ways. We're all at consensus within drug policy that we want our families to be safe on the roads, so it's good that we can come together and work on this issue collectively.

In the US, we have a problem with drug driving and an irony is that drunk driving is relatively less of a problem. In 2014 a survey found that 8 percent of people on the road had alcohol in their systems. 21 percent had three or more drugs in their system. [emphasis added]
Once again, note the conflation of "drugs in their system" with "problem." And even with ignoring the differences of how long drugs stay in the system, the study never gave that percentage for "three or more drugs."
But here's the really outrageous point. Baum is indicating that drunk driving is "less of a problem" than drugged driving.
And, of course, that's ridiculous. There's no doubt that drunk driving is a much more serious problem than driving while testing positive for other drugs. That has been noted clearly by the NHTSA (pdf)
Here are the relative risks of crashes based on the drug used: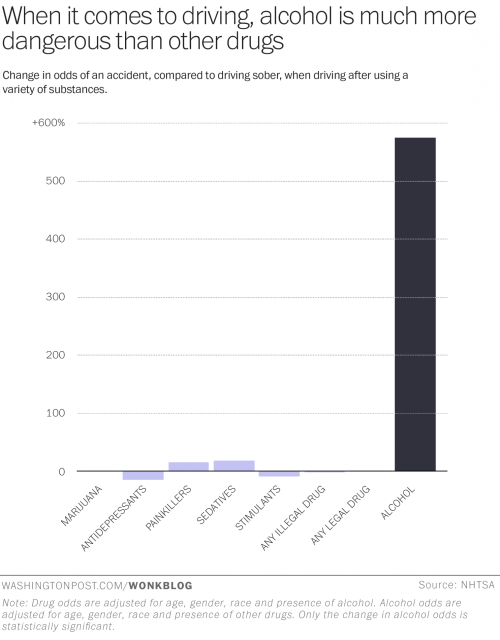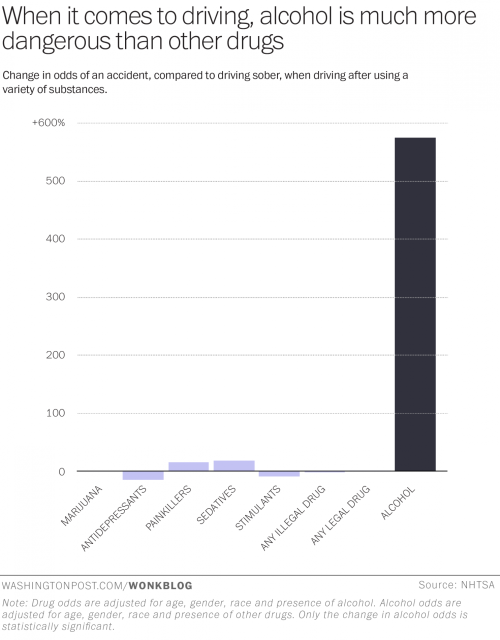 So Baum's assertion that "drunk driving is relatively less of a problem" is not only horribly wrong, but it's dangerous.
What Baum and the ONDCP is promoting is that public policy would be well-served by shifting focus from drunk driving to drugged driving. And that would provably be a recipe for highway disaster.