The Drug Enforcement Administration's (DEA's) traveling museum exhibit, Target America: Opening Eyes to the Damage Drugs Cause, is coming to the Big Easy
Hasn't New Orleans suffered enough?
I've followed this pathetic exhibit since 2003 in Dallas, and then to New York, Chicago, Los Angeles…, and even had my own museum protest and counter website
Well, I guess they've pulled it out of mothballs and are touring it again.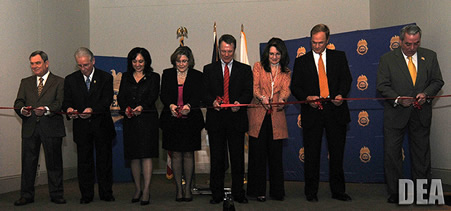 Joe Cook (General Manager FOX 8 WVUE), Bill Alden (President, DEA Educational Foundation), Michele M. Leonhart (Acting Administrator, Drug Enforcement Administration) Fran Harding (Director, Center for Substance Abuse Prevention), Dr Wilson Compton (Deputy Director, National Institute on Drug Abuse), Eileen Sweeney (Head of Motorola Foundation), Jim Mears (VP of Motorola), Jim Bernazzani (President, The Youth Rescue Initiative)
Wow. Sure took a lot a folks to cut a small ribbon on an old exhibit. I notice two of them are from Motorola. Now why does Motorola ring a bell? Oh, that's right — they're the ones who hired former DEA head Karen P. Tandy.
[Thanks, Tom]