The UN Commission on Narcotic Drugs 2010 is taking place this week in Vienna (program).
There has been outstanding blog-by-blow coverage at CNDblog, a project of the International Harm Reduction Association.
CND is the UN body tasked with overseeing global drug policy. However, despite this important mandate, the Commission chooses to work in relative secrecy. Its meetings are not webcast, nor are minutes or summary records made available to the public. The final reports of the meetings are extremely limited. The CND never votes, so it is difficult to find out what position your government has taken on key issues. CNDblog is an attempt to fill this gap, and provide hour by hour records of the debates and decisions rendered during the 53rd session of CND in March 2010.
While the UNODC has made a point of saying they wish to be inclusive, they've really tried to shut out any other views.
Transform Drug Policy Foundation, which will actually have a session connected to the CND event, has a wonderful report on the lengths that UNODC's Costa will go to marginalize other views.
For a start the Executive Director of the UNODC deliberately slandered a whole section of the NGO community in his opening speech, calling groups who support a debate on wider drug law reforms/regulation "pro-drugs", despite Transform specifically writing to him, requesting that he desist with this childish and unwelcoming slur, on the basis that it was inaccurate, pejorative and offensive. Would he call the US Government "pro-drug" for supporting the regulation of tobacco and alcohol? No. We wrote to him about this after the last CND – see "Reformers are not pro-drug" – and got an acknowledgment of our concerns, but no actual response.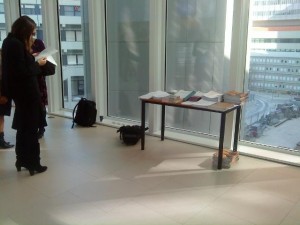 I can't resist showing this… The NGO's (non-governmental organizations, including Transform, Harm Reduction Association, etc. many of whom are there to try to reform) tend to get shut out of key portions. However, they were promised a location to make their materials available to delegates.
The 160 representatives from 55 NGOs were given this table.
…
Our own drug czar is also, of course, in Vienna. His opening speech was full of the usual stuff — multi-pronged balanced approach, no marijuana legalization, no "harm reduction," etc. and full of the usual lies as well (treatment numbers being proof of the "significant consequences of marijuana use" etc.)
Here's the kicker. Kerlikowske is conducting one session himself. On Wednesday at 2 pm, he's conducting a session on… "Understanding the Threat of Drugged Driving."
Oh, yeah, he's using the same false information that he's been using before. Reuters is running a teaser about the session…
"If you think about driving on an American road on a Friday or Saturday evening about 16 percent of the vehicles – one in six of the cars – (the driver) will be under the influence of an illicit or licit drug," Gil Kerlikowske, director of the U.S. Office of National Drug Control Policy, said.

"Drugged driving is a significant problem." he told reporters at a week-long U.N. drug policy review meeting.
It's the same lies he told Ashley III Halsey
Remember, he is basing his entire drugged driving fear campaign on a study by the National Highway Traffic Safety Administration. And does the NHTSA study support Kerlikowske's claims?
"The reader is cautioned that drug presence does not necessarily imply impairment. For many drug types, drug presence can be detected long after any impairment that might affect driving has passed. For example, traces of marijuana can be detected in blood samples several weeks after chronic users stop ingestion. Also, whereas the impairment effects for various concentration levels of alcohol is well understood, little evidence is available to link concentrations of other drug types to driver performance. "
and
"Caution should be exercised in assuming that drug presence implies driver impairment. Drug tests do not necessarily indicate current impairment. Drug presence can be measured for a period of days or weeks after ingestion in many cases. This latency of drug presence may partially explain the consistency between daytime and nighttime drug findings."
I wrote to Reuters and suggested to them that perhaps the real story is the fact that the Drug Czar is in Vienna conducting a session about drugged driving, and he has no actual evidence that the problem exists!