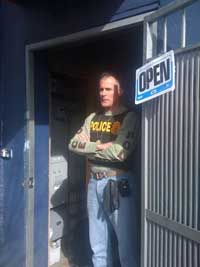 [post revised and updated]
Emmalyn's California Cannabis Clinic at 1597 Howard Street in San Francisco.
SSDP's Micah Daigle was on the scene and reported that all the local press were there. (Protesters were there as well.) Micah also reported that the DEA agents went in with a sledgehammer and crobar, so they certainly weren't there to talk.
Later, DEA agents carried out tubs of marijuana and loaded it into a van.
Note: Keep in mind that, if the dispensary was violating state law, or violating other federal laws, then this would not theoretically be any kind of repudiation of Holder's clear position to let state laws in medical marijuana occur without DEA interference.
Thanks to Tom Angell in comments:
Quote from the DEA
"The documents relating to today's enforcement operation remain under court seal. Based on our investigation we believe there are not only violations of federal law, but state law as well. As of now we are prohibited from releasing further details of the case. Items of evidentiary value were seized and no arrests have been made. The investigation is currently ongoing," said DEA Special Agent in Charge Anthony D. Williams in a written statement.
There's also some video at that link.
Regardless of whether the dispensary was violating state law, this is extremely stupid.
Having federal agents (all marked "DEA" and "Federal Agent") bust a dispensary is politically tone-deaf. A smart person in the Justice Department right now would say, regardless of the potential laws being broken, "if it's a dispensary, send only the state cops. We don't want people seeing the DEA logo at a dispensary."
However, we didn't even see any state or local cops.
I mean, really. Are the state cops that incompetent, that they can't bust a dispensary by themselves if state laws are being broken?
Someone needs to be asking the state police why they are perceived as so incompetent by the feds that they're unable to enforce their own laws.