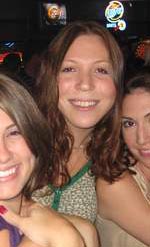 There's lots more coverage of Rachel Hoffman's murder every day.
Rachel Hoffman's friends and supporters protested police department actions and remembered Rachel.
And much more information continues to surface…
Hoffman didn't have "Confidential Informant" training
TPD officials said they didn't train Hoffman because she was already involved in the drug business and knew what she was doing.
Yeah. Because she already sold pot to her college friends, she was perfectly trained to go undercover with marked bills and suddenly buy large amounts of different drugs and a gun. Right.
Told to Inform, They Live at Risk
In Hoffman's case, it was the work of another informer that led to her own work for the police.
On April 15, an informer told Tallahassee police that Hoffman had sold marijuana in the past but hadn't done so recently, according to police records. […]
Two days after police got the informer's tip, a Tallahassee police officer stopped Hoffman as she was getting into her car.
The officer asked Hoffman if she had any drugs in her apartment. A quarter-pound of marijuana, she said, plus two ecstasy pills and four Valiums, according police records.
While she waited, police obtained a search warrant and found the marijuana and ecstasy in the apartment. She wasn't arrested.
Instead, with the prospect of serving time for more serious charges, the graduate of Countryside High and Florida State University agreed to work with police.
I'd really like to be able to hear from Rachel what actually happened at that stop, or some of what happened after. Unfortunately, she's dead, so we can't ask her.
Details Surface in Hoffman Case
Hoffman, 23, had $13,000 in recorded bills to buy a gun, 2 ounces of cocaine and 1,500 ecstasy pills May 7 from two men, Deneilo Bradshaw, 22, of Tallahassee, and Andrea Green, 25, of Perry. But somehow the drug deal went bad and Hoffman's body was found the next day in Taylor County.
Wait. $13,000 for a gun, 2 ounces of cocaine and 1,500 ecstasy pills???? But I've always thought that these things were much more expensive.
Hmm… do you think the police sometimes exaggerate about street value? But of course they do.
Then we learn a little more about a truly messed up operation
On May 7, Hoffman drove alone in her 2005 Volvo to meet the two men, according to the reports. About 6:40 p.m., Green called her on her cell phone and told her to meet them in the parking lot of the Royalty Plant Nursery. The nursery is north of Forestmeadows on North Meridian Road.
Pender last saw Hoffman on North Meridian Road south of Forestmeadows, according to the court document. Hoffman called Pender and said she was following Green and Bradshaw in their car down Gardner Road. Pender said he told Hoffman not to follow them, but Hoffman hung up.
About 6:45 p.m., investigators lost contact with her. Calls to her phone went unanswered, and the monitoring device stopped working.
At some point, Special Agent L. Andris of the Drug Enforcement Administration said he saw two men in a gray BMW parked in front of the nursery as he drove by.
Jeanette Moran, DEA spokeswoman, said the Tallahassee Police Department had asked the DEA to assist them in the case. She wouldn't comment further.
When investigators reached the 1000 block of Gardner Road, they found one back flip flop, one spent .25 caliber bullet, two live .25 caliber rounds and tire skid marks. Hoffman was wearing black flip flops when she was reported missing.
If only she could talk to us.
…
Somebody asked me recently if I thought Rachel Hoffman's case was getting additional attention in general because she was an attractive, young, white girl.
The answer is… most definitely yes.
It's a simple fact that is part of our culture and part of the history of this drug war.
A critical part of the drug war has historically been to marginalize certain segments of society. And so even now, when a young black or hispanic man is shown on the news in a drug bust it seems somehow… unimportant. That is partly due to the inherent racism of the drug war, both in perception and in percentages of arrests and incarcerations.
But when the press gets hold of the murder of a young white girl with so much potential, it always eats it up.
And so while it may seem… cold to "take advantage" of the death of Rachel Hoffman, there is the fact that she can accomplish something important because of who she was and the tragedy of her demise. She can draw national attention to the problems of the drug war and the use of confidential informants.
I can't count the number of times I've heard police recently say that the drug war wouldn't work without confidential informants.
Law enforcement officials say such work is necessary to get drugs and bad guys off the streets.
"The drug world is subversive, and there is no way to penetrate it without confidential informants," Tallahassee police Officer David McCranie said.
Statistics are hard to come by, but officials in Pinellas and Hillsborough counties say the use of informers is common, and sometimes they get hurt.
Rachel has a lot of work to do, and we can give her a hand.