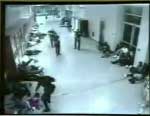 From the Charlotte Observer: Officers cleared in drug raid at S.C. high school.
CHARLESTON – A guns-drawn raid at a Goose Creek high school last year did

not violate civil rights laws, and the case is closed, the U.S. Justice

Department says. …

Using a drug dog, police found no drugs or weapons in the Nov. 5 raid that
frightened children, provoked marches and lawsuits and brought national
media attention and the resignation of Stratford High School's longtime
principal. Fifteen officers entered Stratford's main hallway and ordered 130
students to the floor. They used plastic ties to handcuff 18 students.
School officials opened and searched 17 book bags police dogs reacted to.
S.C. Attorney General Henry McMaster, the state's chief prosecutor,
criticized the tactics used as ill-suited for a school and said they created
a "dangerous tinderbox situation."
Fortunately, civil lawsuits are still in the works. There must be a clear message given that this kind of police work is unacceptable.
Update: Sister Geoff at the very interesting The Superlative Suppository had this one a couple of days ago. Be sure to check out the Suppository — another good blog addressing the drug war.