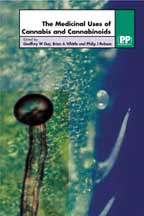 I might have to check this out, despite the steep $60 price tag: Medicinal Uses of Cannabis and Cannabinoids.
From the press release:
CHICAGO–(BUSINESS WIRE)–Aug. 13, 2004–The Pharmaceutical Press, the publications division of the Royal Pharmaceutical Society of Great Britain, with offices in London and Chicago, has published the first edition of The Medicinal Uses of Cannabis and Cannabinoids. …

The publication is an authoritative review of the development of cannabis-based medicines and their applications in a wide range of therapeutic areas. It has been edited by Dr Geoffrey W Guy (Executive Chairman, GW Pharmaceuticals), Dr Philip J Robson (Senior Research Fellow, Department of Psychiatry, Oxford University and Medical Director, GW Pharmaceuticals) and Dr Brian A Whittle (Scientific Director, GW Pharmaceuticals).
The approaches in the book seem quite detailed and it deals with the science, medicine, history, and legal aspects. (chapters include: 1. The History of Cannabis As a Medicine: 2. Growth and Morphology of Medicinal Cannabis: 3. The Breeding of Cannabis Cultivars for Pharmaceutical End-uses: 4. The Evolution of Cannabis and Its Coevolution with the Human Cannabinoid Receptor: 5. Receptors and Pharmacodynamics; Natural and Synthtic Cannabinoids and Endocannabinoids: 6. Therapeutic Potential of Cannabis and Cannabinoids in Experimental Models of Multiple Sclerosis: 7. Natural Cannabinoids: Interactions and Effects: 8. Metabolism and Pharmacokinetics of Cannabinoids: 9. Clinical Studies of Cannabis-based Medicine: 10. Cannabis in the Treatment of Neuropathic Pain: 11. Forensic Control of Cannabis: 12. A Review of Cannabis and Driving Skills: 13. International Control of Cannabis: Changing Attitudes: 14. Developing a New Cannabis Based Medicine).
It could, perhaps, provide additional ammunition in answering prohibitionists. The other side of the coin, however, is that an important part of the focus may be on the development of patentable pharmaceutical products, rather than studying the medicinal value of the plant. (This is only natural, given the organization publishing the work.)
Professor Tony Moffat, the Society's Chief Scientist, said: "This publication demonstrates the scientific credentials of cannabis and cannabinoids as medicines. It is hoped that the evidence presented will help to change the attitude of health professionals towards cannabis-based medicines and enable the international legislative change required to allow further collaborative research into prescription medicines."
Regardless, the existence of such a volume is a positive step.